If you are experiencing lag/ghosting issues with your SCUF Impact controller, it's possible something is interfering with the internal Bluetooth antenna. We'll test for this anomaly by first using a wired connection, performing a thumbstick recalibration, and controller reset.
Wired Connection
Step 1: Connect your controller to the PlayStation 4 console via a micro USB cable.
Step 2: Navigate to the PS4 settings and ensure your device communication method is set to USB cable.
Thumbstick Recalibration
Step 1: Turn off the PlayStation 4 console and controller. Please make sure the console is completely off and not it rest or standby mode.
Step 2: Press the thumbsticks in and hold for 30 seconds. Do not apply too much pressure, just enough so that they click in place.
Step 3: After 30 seconds have elapsed, release and rotate the thumbsticks clockwise followed by counterclockwise at least five complete circles each.
Step 4: Gently press and hold the thumbsticks for an additional 30 seconds to make sure they are firmly secured.
Controller Reset
Step 1: Turn off the PlayStation 4 console.
Step 2: Locate the small reset button hole on the back of the SCUF Impact. This is located under the right paddle (P4).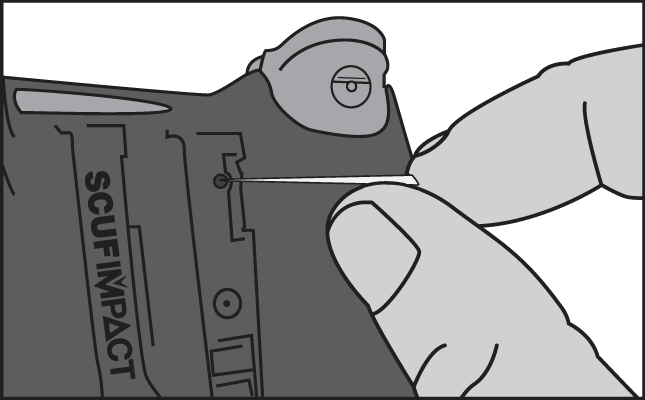 Step 3: Use a small, unfolded paper-clip or something similar to push the button (the button is inside the tiny hole). Hold the button down for a 2 - 3 seconds and release.
Step 4: After resetting the controller, re-pair the SCUF with the PlayStation console by connecting the USB cable to the controller and the system, and turning the PS4 console on.
Step 5: Press the PS button on your controller to log in to the PS4.
Hopefully these steps have resolved your issue completely. If they have not resolved your issue, or have only resolved your issue when connected via a USB cable, please contact SCUF Customer Support for information on a possible repair.